. . . is Laser Dental--dentistry that focuses on wellness and prevention, which is predicted to be the next trillion-dollar industry. We have now, at our disposal, a new paradigm for the entire profession of dentistry that is highly desired by the public. We have existing management services organizations that have a proven track record of improving sales and revenue while they decrease costs. It is also acknowledged that health professionals are adopting laser technology at an ever-increasing pace due to public demand.
What I would like to propose is the "Laser Dental Center Way" of treatment—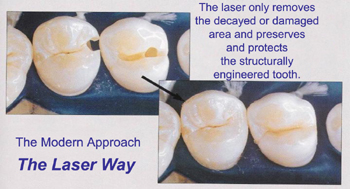 taking small cavities and treating the decayed areas with a gentle laser, where many times an anesthetic isn't even needed; injecting in and fusing fillings into the teeth, which preserves their natural strength and engineering; and laser cleanings, which are not only "kinder and gentler" but much more thorough and healthy for the patient than the present-day scraping and cutting methods.
To prepare the way for this new treatment paradigm, our company has been formed as a California "C" corporation, and we have presently identified five sites for initial operation. The Fullerton site has been in operation for more than fifteen years and will act as our interim training center. Our current management team, partners and advisors are acknowledged leaders with proven track records of success, not only in the dental industry, but also marketing firms, legal, accounting, and business banking.
In addition, we have well thought-out operational systems in place for replication and expansion which encompasses our intellectual properties, consisting of over 100 domain names and trademarks; and our proprietary methods for site selection and development. This also includes modular build-out of new offices; the cabinetry, counter tops, equipment and supply arrangements with vendors; and an information management system that will not only control each office, but the entire network.
We also have a very unique method of selecting and training both the dentists and the personnel who will staff our Centers; almost like a "Laser Dental Center University," which will ensure that the Center's operational procedures and protocols will be completely standardized and simplified throughout the system.

Top of Page

Back to The Problem With Present Day Dentistry

Marketing Laser Dental Centers of America